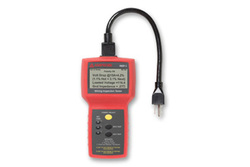 The rugged Amprobe INSP-3 Wiring Inspector Circuit Tester verifies in seconds whether a building's wiring (including voltage drop under load) complies with electrical code. This saves time and money by eliminating guess work. The large display shows all relevant test data so you can quickly identify issues with splices, connections, and conductor quality that are crucial to safety and performance, without scrolling or switching screens. Select a 10, 15, or 20 amp load on the electricity tester then read the results. A flashing screen clearly indicates incorrect wiring or failures. This wire tester won't trip circuit breakers or blow fuses during the test.
---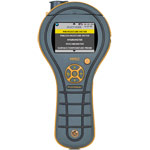 The Protimeter MMS2 Plus Moisture Measurement System represents the latest Protimeter technology in one intuitive, robust and fully functional design. If you're surveying buildings, inspecting a home, drying a building after a flood, or testing concrete moisture for a flooring application, the MMS2 is the solution for you.
When concise and accurate environmental readings need to be reported, the MMS Plus gets the job done.The ability to record readings instantly at the push of a button, and to continuously log when left on site, makes this instrument ideal for many applications including:
Four-In-One Moisture Measurement System
Measure moisture in wood and wood floors, drywall, concrete and concrete block, stucco, plaster, masonry and other building materials
Diagnose the extent of moisture intrusion for damage assessment and monitor drying out of building structures
Use deep wall pin-type probes to measure moisture in walls, wall cavity insulation, sub and surface structures
Use built-in pin or plug in the heavy duty moisture probe for measuring in hard-to-reach areas
Use accessories such as hammer probes to measure at depth
Search (non-invasive mode) behind ceramic tile, fine finishes, water stains, tile and vinyl floor coverings, wood, drywall, plaster, masonry, concrete and concrete block
Non-invasive pinless radio frequency finds moisture up to 3/4 in (19 mm) below surface
Search mode not adversely affected by surface moisture
Hygrometry measures or monitors buildings for adequate ventilation affecting indoor air quality and moisture problems.
Measures relative humidity and temperature, dew point and surface temperature, surface proximity to dew point (condensation) and grains per pound, as well as multiple psychrometric calculations
Allows measurement of equipment such as dehumidifiers
Measures equilibrium relative humidity in concrete floors using the in situ probe method
Use to detect conditions for mold and fungus growth, that can lead to unhealthy living conditions
Surface Temperature (IR) checks surface temperature, utilizing laser pointer, calculates proximity to dewpoint.
---